Big Lake Country Club's Day Habilitation (Day Hab) program is designed to offer our clients the opportunity to meet specific objectives while engaged in voluntary, community-based activities which are of particular interest to them. Clients volunteer at local organizations engaging in a variety of tasks including; gardening, mailings, maintenance and janitorial work, food preparation and distribution, four wheeler trips, zoo, museums, sled dog rides, or possibly a night out for dinner at our 24 foot projection theater, if that is not enough there are many, many more…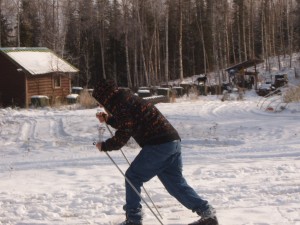 The classroom-based component of Day Habilitation  focuses on academic activities and developing daily living skills. In every case, individual programming is based on an assessment of each person's personal, emotional, social and intellectual needs, incorporating a coordinated, person-centered activity and service plan to help participants achieve their overall goals.
Day habilitation consists of any community based activity in which our clients actively participate in.
This includes:
Local native cultural events

Visits to the Alaska Native Heritage Center
Museums

Historical native celebration

Powwows at Alaska State Fairground and Native Village of Eklutna

Local Fair

The Alaska State Fair, home of record-setting giant vegetables and beautiful flower gardens. Nestled in the heart of the Chugach Mountains, in the fertile Matanuska-Susitna Valley, the Fairgrounds are just an hour north of Anchorage. Each Fall, the Fair provides a setting for Alaska's last blast of summer, a showcase of Alaska's uniqueness and beauty.

ATV Trips

Our clients can ride through our 10+ miles of ATV trail which wanders over and alongside creeks and through local woods. Escorted, of course.

Fishing (All season)

Clients may fish shore side
Atop our 22′ canvas covered pontoon boat.

Snow machining

Utilizing the same trails used during our summer ATV programs, clients may enjoy our brisk winter sightseeing.

Performing Arts

Clients may attend performances and special events at the Alaska Center for Performing Arts in Anchorage. Which hosts the annual Nutcracker performance.

Weekly shopping trips
Mechanical Shop

Clients can participate in obtaining the skills used in vehicle, ATV, and snow-machine repair; which includes welding.

Iditarod Sled Dog Kennel

Clients may work with the dogs, learn to mush, and work with the sleds.
Nature Walks

Gardening

Clients are welcome to participate in our gardening program. They may grow their own vegetables, shrubs, and flowers.