The joy of sitting astride and controlling a horse is an empowering experience for an individual with physical, mental and/or emotional disabilities. Our mission is to provide recreational therapeutic horseback riding for people with these challenges. Horseback riding gives individuals with disabilities a chance to strengthen muscles, increase joint mobility, improve balance, posture, and coordination in a way that makes learning fun and interesting. Acquiring these skills fosters the development of confidence and self reliance while riders learn the basics of caring for a horse.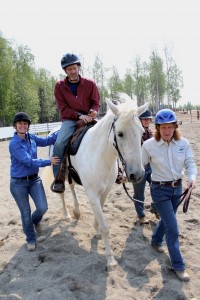 Therapeutic Riding is the use of horses and equine-assisted activities in order to achieve goals that enhance physical, emotional, social, cognitive, behavioral, and educational skills. It not only focuses on riding skills but also the development of a relationship between horse and rider. Therapeutic Riding is a unique and intense form of therapy that quickly increases the strength and coordination of our clients. Therapeutic Riding is also an excellent and productive way to increase stability, muscle control, and emotional health. Horse riding increases muscle control, strengthens the core, arms, legs, neck and promotes correct posture.
Winchester, P., Kendall, K., Peters, H., Sears, N., & Winkley, T. (2002). The effect of therapeutic horseback riding on gross motor function and gait speed in children who are developmentally delayed. Physical & occupational therapy in pediatrics, 22(3-4), 37-50.